How to get here
As you prepare for your journey to the United Kingdom, we understand that arranging transportation from the airport to the city is an important aspect of your arrival. Portsmouth is well-connected and offers various transport options, making it easy for you to get here. Below, we have outlined a few popular modes of transportation: train, coach, and airport pick-up.
Page Section
Travel by coach
If you prefer a more cost-effective way to travel, coaches are a great option. National Express and Megabus are two major coach service providers that connect Portsmouth to many cities in the UK. Coaches generally take longer than trains but are often more budget-friendly. You can find schedules and book tickets on their respective websites:
Transfer times are approximately 3 hours (Heathrow) and 4.5 hours (Gatwick). The closest bus stops are University of Portsmouth and The Hard.
We recommend that you:
Book your ticket minimum 24 hours in advance of boarding the bus via the National Express website
Make your own way to the correct coach pickup point at the airport (which is determined by your arrival terminal) to board the coach.
All services stop at University of Portsmouth, which is a short walk to ICP and the main campus. The alternative stop is Portsmouth, the Hard, which is close to Gunwharf Quays and the Historic Dockyard.
If you arrive in Portsmouth outside of college opening hours, make sure you arrange an out of hours check-in with your accommodation provider. If this isn't possible, you should arrange to be taken to a local hotel for the evening ready to come to ICP the next day. Find more information on hotel options on our Travel to Portsmouth page.
Travel by train
The train is a convenient and efficient mode of transportation from major airports to Portsmouth. If you're arriving at London Gatwick or London Heathrow, you can catch a train from either airport to London Waterloo Station, and then take a direct train to any of the train stations in Portsmouth. We recommend checking the train schedules and purchasing your tickets in advance to ensure a hassle-free experience.
Train services are operated by a variety of different companies, so it is best to look for timetables and fares through National Rail. Some companies offer special deals, especially if booked in advance, on certain routes (usually longer distance routes)
Many train services offer either 'Standard' or 'First Class' tickets (and therefore seating). First Class is much more expensive than 'Standard Class', which most people find perfectly comfortable.
Portsmouth Train Stations
Portsmouth and Southsea
Portsmouth and Southsea Station is the closest station to the campus, the halls of residence and the city centre. It is only a few minutes' walk to ICP, and if you need a taxi to your accommodation, you can use the taxi rank outside, Uber (download the App on your Appstore), or Aqua Cars (a local taxi company).
Portsmouth Harbour
Portsmouth Harbour (The Hard) is the closest station to Gunwharf Quays and the neighbourhood of Portsea. The main coach station is also here, and there is a taxi rank outside.
Fratton Station
Fratton Station is the closest station to Fratton, Milton, Eastney and Southsea.
Travel by Taxi
For added convenience and if you have a lot of luggage, you can also consider taking a taxi from the airport or train station to your accommodation in Portsmouth.
ICP Airport Pick-Up
Booking an airport pickup is a quick and hassle-free way to get to Portsmouth. We work with a local taxi company and can pick you up from any London airport or other specified location. To request a pick-up you need to complete the form on our webpage at least 48 hours before departure. The pick-up fee is approximately £70-£90/person for a standard car from a London airport. Please note this is a non-refundable charge that will be added to your ICP account and will need to be settled shortly after enrolment.
Aqua Cars
If you prefer to arrange your taxi yourself, we recommend using Aqua Cars, a private hire company in Portsmouth and the South Coast. You can book through them directly by downloading their app or by calling them on +44 (0) 23 9265 4321.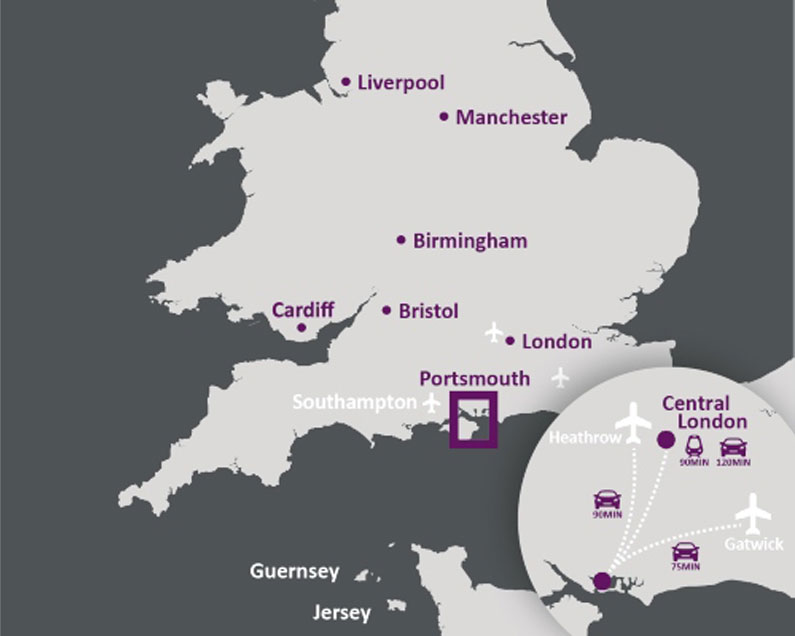 Page Section
Arriving out of hours
If you arrive to Portsmouth outside our opening hours (8.30am–5.00pm Monday to Friday), you should go to your accommodation for the night and come visit ICP the next morning if you need help or information.
If you arrive in Portsmouth before you're due to move in to your accommodation, you'll need to book a local hotel, AirBnb or guest house for your arrival. The hotels below are a short walk away from ICP.  You can book rooms on the providers' websites or over the phone.
Please note that you must book accommodation in Portsmouth, within 30 minutes of ICP, to be able to register and start your course.
Premier Inn
1 Isambard Brunel Rd
Portsmouth
PO1 2TR
+44 (0) 333 321 9358
Travelodge
Stanhope Rd
Portsmouth
PO1 1FB
+44 (0) 871 984 6567
Ibis Portsmouth Centre
Winston Churchill Ave
Southsea
Portsmouth
PO1 2LX
+44 (0) 23 9264 0000
Holiday Inn Express Gunwharf Quays
The Plaza Gunwharf Quays
Portsmouth
PO1 3FD
+44 (0) 3333 209 360