Portsmouth is a fantastic place to live and study offering a variety of accommodaton options. Whether you are looking to live in halls of residence or prefer renting privately, there are options available for all budgets. Explore our accommodation options to find which area, type and price point is best for you. You'll need to live within 30 minutes from the main campus.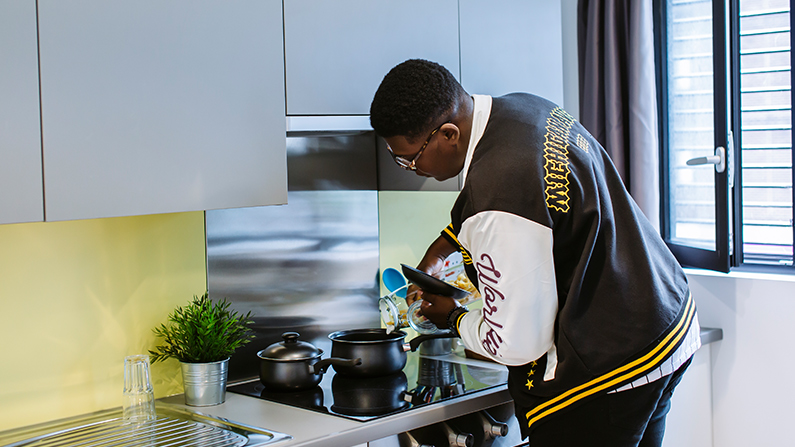 How to Choose Your Area in Portsmouth
Consider where you want to live – close to the city centre, somewhere busy and vibrant? Or somewhere quieter, perhaps more rural? You will also need to factor in your budget and public transport links if you live outside of the city.
Central Locations
Southsea and Fratton are your best bets if you prefer to live close to the city centre – and only a short walk from ICP, with all the facilities almost at your doorstep. Depending on the type of accommodation you choose, rent prices can vary significantly. As these are central locations, prices will likely be higher.
East and North of Portsmouth
If peace and quiet is what you are after, consider areas like Eastney, Milton, North End and Hilsea. Good transport links are available so you can easily commute to the College and the city centre.
Outside the City
Areas such as Drayton, Farlington and Cosham are located further away from the city centre. This means that the rent will be cheaper, but you will need to use public transport or a bike when coming to the College.
Types of Accommodation
There are considerations that you need to make when deciding on what type of accommodation you would like to live in, such as catering, furnishings and housemates.
Halls of Residence
Living in halls is a great way to get to know other students. Most universities offer student halls to first year students that are centrally located on campus and offer safe, convenient accommodation. These are usually furnished flats with a shared kitchen and lounge area, and either shared or en suites bathrooms. You can choose between catered or self-catered accommodation depending on your preferences.
What's included
Flats in student halls usually come with bills and wifi included, making calculating your rent less complicated. All rooms are for single occupancy only meaning you will never share a room with another student. Typical furnishing includes a desk, bed and storage so you can move straight in. You can bring your own TV, video games or posters with you.
The kitchen and lounge facilities are usually shared between 5-8 students. Most kitchens include a hob and oven, microwave, fridge and freezer, cupboard and storage space for each resident. You will need to buy your own cutlery, plates and glasses. You could ask the accommodation provider for a full list of what's included and recommended shopping list to get you started.
Halls are managed by the university or by third party student housing providers, who often have a security team and residential support any time you need it.
Private Renting
If living in student halls is not for you, there are many other options you can choose from. Renting privately gives you the freedom to decide if you want to share a house with other students or rent a place on your own, like a studio or one bed flat. You'll have more choice of where you live and who you live with, but you'll also have more responsibility.
What's included
Private accommodation means you'll need to manage your rent and bills directly with your landlord or with the estate agent managing the property. Not all landlords include bills and wifi in the rent either – so make sure to check these details when you're looking for a place to live. If you live in a shared house, bills are typically shared between all occupiers if not included in your rent.
Many students rent privately for their second and third years of uni, so they can live in a shared house with friends they made in first year. But this is also an option for your first year, particularly if you've already got friends at your uni.
Explore the different options available on campus and please remember you'll need to find accommodation within 30 minites from the College. We strongly advise you to book your accommodation prior to travelling to the UK so you have a home to arrive to. If you are unable to secure a room in advance, aim to arrive 5-7 days before the start of registration.You will be asked to provide proof of accommodation during your enrolment.
Page Section
Disclaimer
Whilst ICP have endeavoured to cover most aspects/areas of accommodation provision in the UK within this website and associated materials, the website is meant for guidance only and should not be viewed as containing definitive legal advice. ICP students should make their own enquiries with regard to any property and potential tenancy agreement BEFORE signing with a letting agent, including any legal definitions that they are unsure of. This website and associated materials do not constitute any form of legal advice for accommodation in the UK provided by ICP or any of their Accredited Accommodation Providers named in associated ICP documentation. If you are unsure about any aspect of a legal UK residential tenancy, then you must seek appropriate independent legal advice from an accredited UK legal professional. For information on finding a UK solicitor please see:http://www.lawsociety.org.uk/choosingandusing/findasolicitor.law (other sources available).
ICP cannot be held accountable for any loss or damage to person(s), from taking the advice contained herein and will not accept any legal or financial liability for advice given within this website even if it is found to be inaccurate. ICP does not guarantee legal accuracy of information from a UK legal viewpoint, including interpretation of any legal terms contained within this website and associated documents.