Campus Life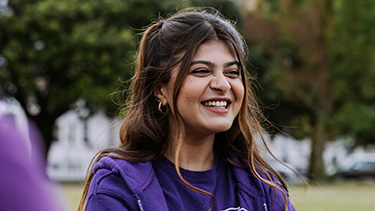 Explore Life on Our Campus
When you study with us, you'll spend a lot of time at various places across our city-centre campus. Find out where to go when you want to study, where to grab something to eat and drink while you're on campus, as well as tips on how to stay safe while you're here.
Our campus is compact and easy to explore. Our Student Mini Guide has a great map which gives you a flavour of where the campus buildings are located.
Where to Study on Campus
There are several great places to study on our campus. The library is naturally a good option as it is quiet with access to study resources. Alternatively, The 3rd Space is a communal social and learning space where students can relax, meet with friends and work together in a casual environment; it's located on the first floor of the Students' Union building. Additionally, the campus has studios, training suites and technology centres for you to use to support your studies.
What About Places to Eat?
Where should you go to keep yourself fuelled? There are many choices on campus and in the city, so why not check out the best places to eat guide from the University of Portsmouth.
Find Out About Your New City
Portsmouth has fantastic local, independent businesses – from art galleries to bars, restaurants and delicatessens. Check out the University's website to see why local people and students chose and love Portsmouth, and explore what Portsmouth has to offer for your life outside study.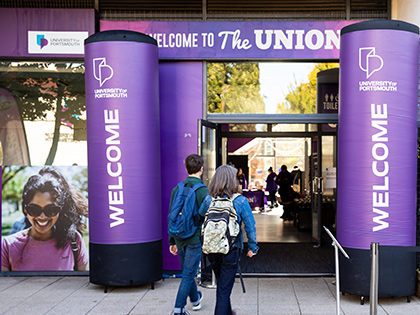 Explore our Students' Union
The Students' Union is a student-founded and student-led charity that aims to represent our students' voice. Each year, students elect new officers who work towards enhancing your overall university experience. Their work is centred around organising social events, conducting meetings to raise important issues, and helping students that might be facing challenges.
Our Students' Union is a safe space, giving you:
Confidential guidance and support whenever you need it.
Answers to your questions about any university procedures and policies.
Valuable advice to help you academically, professionally and personally.
An inclusive environment, celebrating diversity and promoting positive change.
The Students' Union also provides access to student groups and extracurricular activities to connect with others. Whether you are a sports fan, a cinema buff, a competitive gamer or a music lover, there is the right society for you. Meet like-minded people who have similar hobbies and interests and build strong relationships.
Tips for Safety on Campus
Portsmouth is a safe city, but it is always good to be aware of your surroundings and take sensible steps to look after yourself and your belongings.
Take responsibility for yourself
Have precautions in place when going out – especially if you're alone
Watch how much you drink – your friends too
Register your belongings
Insure your possessions
Make sure your house is secure
Be extra careful with your car or bike
Keep personal details safe
Install security software on your laptop
Be extra careful with money – cash and online
The Complete University Guide has some more advice about staying safe at university.